Route66 New Years Party 2019Back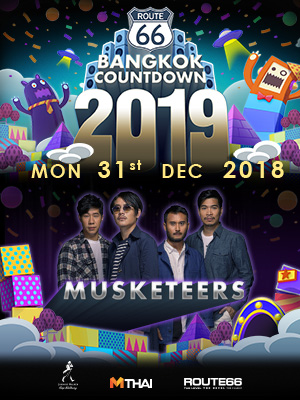 Route66 Club
Sun 30 December 2018
ได้เวลา Party แห่งปีที่ทุกคนรอคอย
กับความสนุกที่จัดเต็มแบบไม่ยั้งในวัน Countdown สุดมันส์ที่ "Route66 Club Bangkok"
ร่วมด้วย Dj ชั้นนำของเมืองไทย และ Live Concert จากศิลปิน Musketeers
ที่จะสร้างประสบการณ์ทางดนตรีส่งท้ายปีแบบสุดๆ เตรียมตัวให้พร้อมแล้วมานับถอยหลังไปด้วยกัน อย่าพลาด!!!

วันจันทร์ที่ 31 ธันวาคมนี้ At Route66 Club Bangkok

Line Up
Route66 The Level (Outdoor Stage)
- Dj Non 36K
- Dj Benz + Dj Tony B + Mc Pete D
- Dj Game + Dj Krit + Mc Bizzo
- Dj Nuttrix + Dj Nui Okb + Mc Pete D

Route66 The Level (Hiphop)
- Dj Golfindro
- Dj Double B
– Dj Cash Yo & Dj Framway
– Dj Meeh & Mc Dandee

Route66 The Classic (EDM)
- Dj Ricky
– Dj Kash
– Dj Italian Kidz & Mc Vitter
– Dj SunZone & Mc Joelong

Route66 The Novel (Live Band)
- วง Energy
– วง Major.Seven
– Concert Musketeers
– วง The Brain

*หมายเหตุ*
- บัตรราคา 300 บาท (ค่าเข้า 100 บาท คูปองเงินสด 200 บาท)
- สำหรับในวันงานในวันงานลูกค้าที่จองโต๊ะหรือต้องการโต๊ะ เหล้าขวดแรกที่เปิดขอสงวนสิทธิ์เป็นเหล้า Black Label ขึ้นไปเท่านั้น (5คน / 1โต๊ะ / เหล้า 1 ขวด)
- ใช้เหล้าฝากได้หลังจากทำตามเงื่อนไขของทางร้าน (ขวดที่ 2)

*Notice*
- Ticket 300 Baht (Entrance Fee 100 Baht Cash coupon 200 Baht)
- On the given event day, all customers who booked a table or request a table will be able to consider the first to be only Black Label or higher (5persons / Table / 1 Bottle of whisky)
- On during the event day, You can used the deposit card of bottle allow our requirement.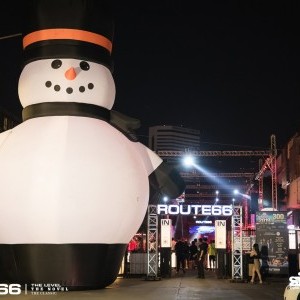 Route66 Social
Live Music Online
Update Required
To play the media you will need to either update your browser to a recent version or update your
Flash plugin
.